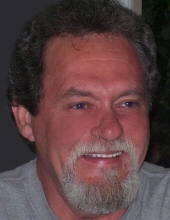 Obituary for Charles Douglas Hoskins
Charles "Doug" Douglas Hoskins, age 64, of Dayton, Ohio, passed away on Wednesday, September 19, 2018 at his residence in Nashville, Tennessee.

Doug was born October 30, 1953 at Miami Valley Hospital in Dayton, Ohio to Shade and Polly (Young) Hoskins. Doug graduated from Kiser High School, Old North Dayton, Ohio in 1971. As a young boy, Doug found his love for singing, songwriting, and playing musical instruments such as the banjo, guitar, and piano. Immediately after High School, Doug joined the Navy to see the world and defend his country. During his time in the Navy he proudly served on the aircraft carrier, USS Hancock, performing various maintenance and fire prevention duties. Once out of the Navy he continued his love for music by performing at various venues in Ohio (most notably Dayton's Oregon District), Kentucky, and Indiana. Doug acquired 19 songwriting awards from The American Song Festival and the Music City Song Festival. Those awards, along with a couple vocal awards, took him to Nashville, Tennessee in 1981 to pursue a career in singing and songwriting. While in Nashville, he was fortunate enough to land a label deal with Destiny Records and release a couple of singles in the late 80's. Doug wrote and performed many songs, but some of his most popular are "Hold On Virginia", "One More Time", and "I Slipped On A Memory". In addition to music, Doug held numerous jobs throughout his life as a mechanical engineer.

Doug is survived by his son Shade Hoskins (Summer); sisters Loretta Hoskins, Brenda Martin, and Joy Hollen; many nieces, nephews, and their children.

He was preceded in death by his parents, Shade and Polly (Young) Hoskins, and sister, Barbara Adams.

There will be no viewing for Doug as his wishes were to be cremated.

A memorial service will be held on October 6, 2018 from 12pm - 3pm, at the VFW Post 3283, 5074 Nebraska Ave., Dayton, OH. 45424

In lieu of flowers, donation may be made to VFW.
Previous Events
Service
VFW Post 3283
5074 Nebraska Ave
Dayton, Ohio 45424